Limited Edition Pink Pumpkin Mug Pre-Order
Welcome to Wild Juniper Fibre Art, a place you can find beautiful handspun art yarns, weaving & other fibre tools.
Currently based in Abu Dhabi, Amanda is a Scottish Fibre Artist and creates each item by hand in her studio.
Make sure you sign up for email notifications so you'll always be first to know when new items are coming to the shop.
Handspun Art Yarn & Fibres
I specialise in the production of small-batch handspun & hand-dyed luxury art yarns and fibres, for all types of fibre-art projects.
All yarn is spun, by me by hand in my workshop. I have been spinning since 2017 and started producing yarn to sell in 2020.
It is a priority to me that my fibre is ethically sourced and this is something I am constantly working on to ensure my sources are sustainable.
Shop Yarn & Fibres Now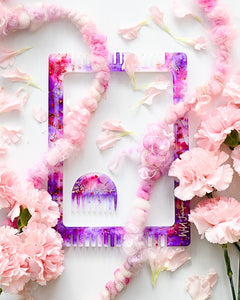 Resin Looms & Accessories
Treat yourself to weaving tools as beautiful as the finished woven products, with this collection of resin looms & combs.
Inspired by my love of nature, these pieces are truly unique, one-of-a-kind, pieces of art, that have functionality at their core.
Each piece is made entirely by hand, in my workshop in Abu Dhabi.
Shop Looms & Combs Now